The past year has been super fun for us at Axznt, although we haven't grown in team size, the business, our systems and service has grown and improved massively. Naturally, over the years we have become a leader in street dance and customised clothing and more increasingly for whole dance schools rather than just individuals. We had great feedback from current clients so we decided to target more dance schools offering a service and value like they've never had before which includes free design, bespoke catalogue and continuous support, advice and new garment suggestions to insure they keep on top of their game.
So much has happened this year but didn't want to bore you so here are some serious and not so serious things that has been going on with us over the past year.
p.s I save the best till last, don't cheat!
2,000,000+ Rhinestones Used
That's right! Over 2 MILLION. As you know, we specialise (but not limited to) rhinestoned clothing. It's one of the main things we pride ourselves on as being one of the best in the country. It's a good job because you guys seem to love it! Sometimes 'bling' is a bit much but when you dare to venture and experiment, the result is amazing.
[su_slider source="media: 6368,6369,6370,6371,6372,6373,6374,6375″ link="lightbox"]
Too much sparkle for you or got some boys in your class? It's alright, we have cool 'Matt' alternatives that don't shine but give a different dynamic and texture to the design – we call them Rhinestuds.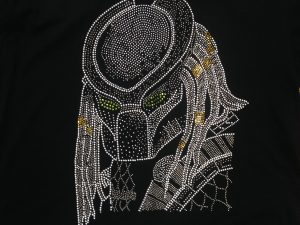 400+ Metres of Textile Vinyl Used
That's 1/4 of a mile… Pointless fact: The fastest person to ever run that distance (Olymic World Record) is Wayde van Niekerk, with a time of 43.03 seconds. Some people look down on vinyl printing compared to screen printing but most love how solid and vibrant the colours are. We've tested plenty of different textile vinyls which has resulted in us having a reliable, strong last, bright print enabling us to go far and beyond with your colour requests. This print will easily outlive the garment if washed properly.
This year we introduced glitter vinyl (not to be confused with sparkle vinyl) after finally being impressed with new improvements and quality, a winner for a lot of our clients this year and we expect to see a lot more to come! Hopefully we can venture into the more 'out there' colours like Neon Blue Glitter and Silver Hologram.
[su_slider source="media: 6383,6382,6381,6379,6378″ link="lightbox" width="500″ title="no"]
150+ Logos Designed
But not all used. We happily design to your specification free of charge and that means us having to explore a few different avenues before ticking the box, a lot of the time we get it bang on but sometimes there's just something you can't but your finger on or explain why you don't like. That's fine. We work with our customers until they're 100% happy before we move on to the next stage and produce on garment digital visuals to approve and then a real life sample.
80+ Dance Schools and Crews now being served
We're constantly growing and it looks like you're growing with us too! It's great to have new dance groups from all back grounds join forces with us to create something special to help them feel part of a team, family and most of all look good on the dance floor! I can't thank our current loyal veteran clients enough who have been with us for a long time – I'm grateful for the trust and freedom they put into our process which we believe in turn enables them to do what they do best (Dance) … Or in some cases, Swim, Cheer or Kick Box! 😀 So thank you!
7 Blog Posts Published
Something that I've always wanted Axznt to be is a resource, somewhere that entertains and educates at the same time. I was there before and through the time Street Dance 'blew up' or let's say became commercially popular and I feel that not just dancers but parents and dance teachers who are trying to learn are looking for answers. They might not be 'Street' or 'Hip Hop' as per se but are willing to learn the ways and pass on the correct knowledge. I feel a little slow but I have made a start and looking back I'm very happy to see the blog area looking fuller. This year I will try get more guest speakers covering more ground, got something interesting to say? Email me here… Also some video interviews would be nice!
1 Van Stolen
Sob… 🙁 Why do people steal? I don't get it but whatever. We worked pretty hard to get that Van and it was definitely a step in the right direction, strangely, people suddenly thought we were officially legit because we had a transit with Axznt plastered all over it haha. It was pretty cool though I must admit. Sadly we never got it back.
RIP
But…
1 New Van Bought
I'm a bit of a car fanatic and for a long time (about 4 years) I had wanted an Astra Van, I know you couldn't care less but it's a pretty awesome van so I took this as an opportunity to go find me one. Not 100% practical but I had my heart set and Lizzie didn't want to see me cry so she granted my wish (ha) so we bought this BATMOBILE with the insurance money and a little more. My new love.
[su_slider source="media: 6384,6385,6386″ link="lightbox" width="500″ title="no"]
1 DTG Machine Purchased
We have invested in a shiny new machine to produce even more beautiful designs for you! DTG means Direct To Garment and is a new form of printing technology which is digital, from printer directly on to the garment that is placed on the platen. This is great news for both you and I… Axznt can now produce ANY type of print – photographs, illustrations and other intricate artwork without a set up fee and is soft to touch 'in the fabric' when printed. You can have gradient colours (unlimited) nice and bright, even on black. We have already started to play and get creative with some of your designs, one of which was featured in the magazine I mentioned earlier! Check em' out!
[su_slider source="media: 6401,6402,6404,6405,6406,6407″ link="lightbox" width="500″ title="no"]
1 Rolls Royce Stoned
Say what? The story goes like this. Mr Royce is restoring 1960 something Rolls Royce Phantom and wants something different. 'I know, let's crystalise the front of the car' he says. A Google search showed RhinestonesOnline first (Lizzies business) so he calls, explains and asks if we can do it. (In my head I'm like 'hell yeah') The brief was tricky as we couldn't remove the grill that he wanted stoning so the general consensus was that we can't do it as the people who normally stone wouldn't stone while on the car as it is a bit of a faf and quite frankly didn't want to mess the car up.
'I'll do it!!' idiot says over here.
Mr. Royce wanted the full grill rhinestoned including the iconic angel which was very intricate meaning  we would have to use some of the smallest stones in production, ss4 which is  1.5 – 1.6mm in width. Pretty difficult to work with! With it being such a prestigious car, we had to use a prestigious stone, Precioa Crystal. Preciosa are 1 of the 2 Elite Rhinestone brands in the world (the other being Swarovski) … Czech crystal at it's best, perfect for such a task.
I went to work… The Angel alone took me 14 hours!
[su_slider source="media: 6389,6388,6387″ link="lightbox" width="500″ title="no"]
The rest took another 15 hours, totalling 29 hours. The majority of the stones used on the main grill were ss30, this helped fill the space much better (and quicker) we feel the combination worked perfectly.
[su_slider source="media: 6392,6393,6394,6395,6396,6397,6398″ link="lightbox" width="500″ title="no"]
–
I think you'd agree that it's a pretty eventful year? Lizzie has always had a saying and it goes like this… 'There's nothing we can't do.' She means it in 2 ways…
1. When things get hard and it seems like we can't do something, we can, always! You just need push through, where there is a will there is a way. With anything in life.
2. In a business sense – When customers come to us with a seemingly ridiculous request, more often than not, we can do it, and we will do it.
This has always encouraged us to go the extra mile exploring possibilities… The only thing that will stop us is the tools we have (or don't have) at hand or the cost of doing whatever it may be. Worst case scenario is that we don't know how but then we will research into who can and introduce them to the project to get the job done! After trying to learn ourselves ha. We love the challenge and will continue to push ourselves bringing something different to the table each time.
We came back into the shop after Christmas excited about something, not sure what but it's there's something in the air. Make sure you keep an eye out!
As always thanks for reading if you made it this far, if you enjoyed feel free to share or comment to let me know your thoughts and I'll be sure to get back to you!
Speak soon 🙂
[thrive_2step id='671′]


[/thrive_2step]