Featured Design | Decorated Product of the Month
I'm very proud to be able to say that we've been featured in the 'The magazine for garments and textile decorators' – Images. Why proud? Because this is the first. And due to it being an industry magazine it validates that we are truly doing something special and has been recognised showcased to thousands of garment printing fanatics just like ourselves!
Also to enjoy this feature is Deja Vu Dance Crew who we did the design for and produced over 100 T-shirts for their travels to compete in the European Street Dance Championships.
I sent a couple of pictures of our designs in which showed an exciting fusion of printed media that we had designed and produced from start to finish. This is what they [images] chose! This design was exciting for me as it was also the first design using our new digital printer which allowed me to go further! Really happy with the result 🙂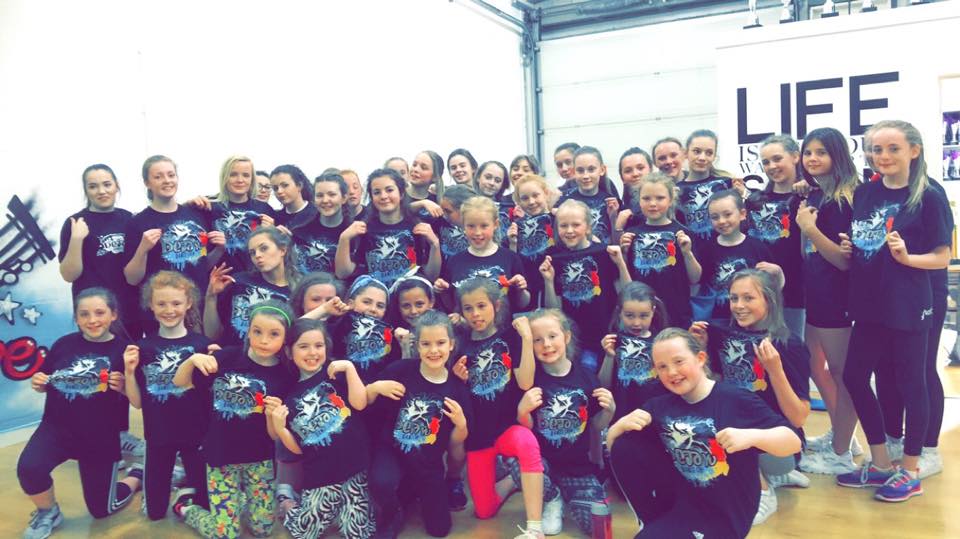 Direct from Images Magazine
Our eyeballs were grabbed this month by a dazzling display from
Brighouse based Axznt. The pictured rhinestone and DTG design
was created for Déja Vu Dance Crew from Glasgow, explains Axznt
director Ess Green. Aptly enough, Deja Vu was a returning customer
who many will recognise as a semi-final act from this year's
Britain's Got Talent TV show.
"They travel quite a lot to perform and compete; on this occasion
they were going to Germany for the European Championships."
explains Ess. The owner/choreographer Vicki Williamson said that
she wanted something colourful with a little bit of bling including
the German flag. and from that brief Ess created a design using
Corel Draw with "royalty-free urban vector elements, halftones and
a bit of imagination".
Axznt specialises in rhinestone design (Ess's business partner is
Lizzie Carr of Rhinestones Online), and has a plotting machine imported
from Asia which came with rhinestone software. "We can
produce rhinestone transfers with up to five different sizes or colours,"
says Ess. "There was approximately 850 rhinestones in each
design. The print itself was done using our newly acquired Epson
SC-F2OOO DTG printer. The quality of the result was down to the
correct pre-treatment ratio, which takes some testing. I use a 2:1
ratio of de-ionised water/pretreatment as a guide, but tend to put
a little extra pre-treatment in to make it a little bit thicker to help the
white base sit better, therefore [resulting in] brighter colours."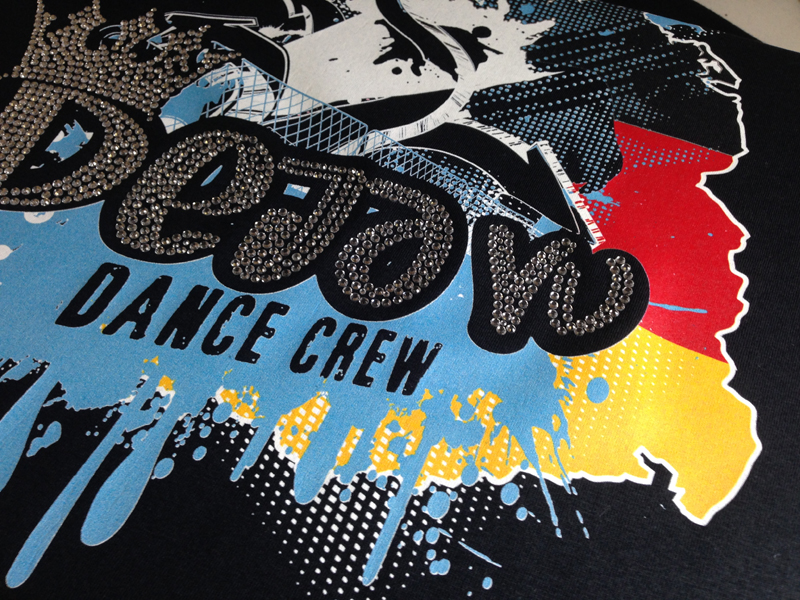 The T-shirt used was the B&C Exact 150 as it is available for a
wide range of ages. which is essential for a dance school where
the ages range from four to 20 years old.
"We really try to fuse different types of printing media together
for a dynamic result — follow us on Instagram for ideas and get in
touch for advice if you need any! We can produce bespoke rhinestone
transfers for you to offer more to your clients." says Ess.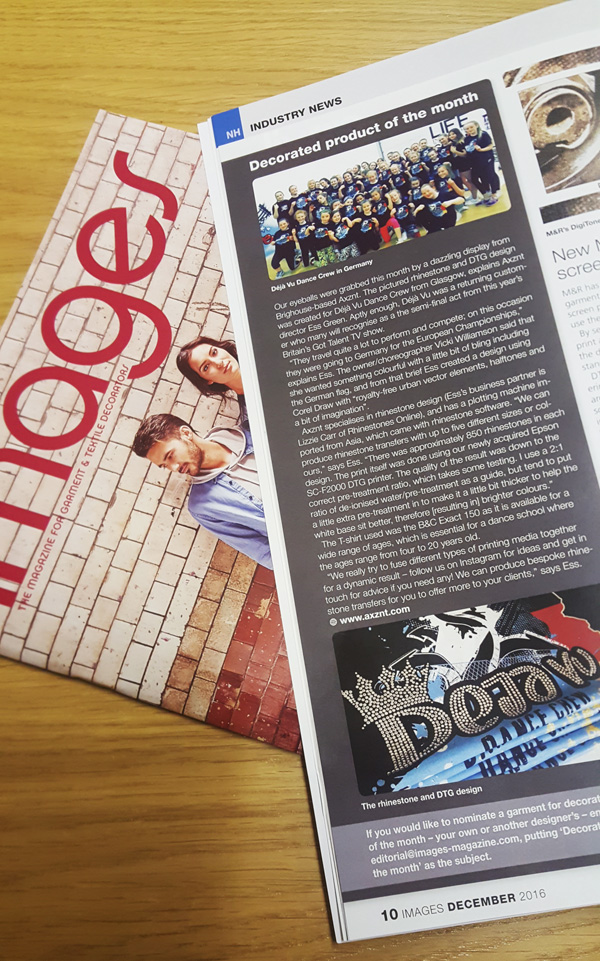 I personally read Images Magazine every month to keep up to date with industry news and techniques to make sure I'm bringing our customers new and unique styles, garments and print options to help brand their dance school, stand out on the dance floor and make them feel good about themselves!
Looking forward to design and producing more gems like this for our current dance school customers and the new ones looking for something special that join us in the future!
Any questions about this particular design or similar techniques comment below and I'll be right with you.
[thrive_2step id='671′]


[/thrive_2step]