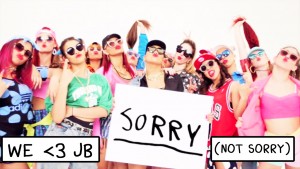 ' I need to make something to this one'
As dancers we all know, as soon as a new album drops, we get a wave of choreographers jumping straight on it to showcase their spin on each track.  It's one of my favourite things to happen in the dance world; seeing choreographers find a new spark of inspiration from simply hearing somebody's voice and it making them want to move their body in time with it.
Music lovin'
We all love discovering a new emerging soundcloud artist, for example, most recently: Bryson Tiller and Tiffany Gouche, but recently, we had a very well-known Canadian artist, Justin Bieber coming out of nowhere with an absolute banger of an album that he titled 'PURPOSE.' Bieber has been making music since about 2008, and had a fan base of mostly 12 year old girls from the offset, but his growth in his artistry and fan base from 'One less lonely girl' to the chart topper 'What do you mean' is so REAL.
You literally can't turn on a radio station without hearing at least three tracks from Justin. He took the world by storm with his music, and to top it off, followed it with a sequence of videos geared around dance, titled 'PURPOSE: The Movement'.
I adore that Justin created this, as it's been the most incredible platform for dancers and choreographers that shows just how perfectly the art of movement can compliment an artist's music. Dance should be shown off to the world, and what better way to do it than with 19,117,684 (and counting) subscribers on your YouTube channel? Go off Biebs.
The whole playlist of 11 videos is up on youtube, so I suggest you make a brew, and get watching! I'll be here waiting for the next series:)

Personally I have two favourite videos;
First of all, 'Life is worth living'
Now this song is something so different for Justin, and the incredible artist that is Emma Portner did it nothing but justice with this incredible showcase of her unique style of movement. It's a heavy emotional song, and with the choreographic genius from Emma and Patrick cook, this video potrays the story perfectly.
My second favourite is 'Love yourself'
Now I'm pretty sure Keone and Mari Madrid stole everybody's heart with their character-filled, creative duet. It shows how everyday tasks can be made into dance moves, even quite literally getting out of bed in the morning looked incredible with these two doing it!
I love that these incredible choreographers were given the chance to showcase their work on this platform, and props to them for doing a beautiful job.
So which video is your favourite? Leave a comment below and give us your opinion on Justin's newest creation, I would love to hear from you guys!